Workshop
Indian Clubs, Meels & Gada - Basics
Date: 10th Dec 2022
Time: 1:30pm - 3:00pm

Place: AQ Strong
Price: $100

Intro workshop sharing the basics behind swinging Indian Clubs, Meels and Gada (Mace). Coach Marco will share some basic principles in this ages old method of training, now popular again.

This workshop is appropriate for new learners and experienced exercisers looking to add a new style into their training.

*Workshop will be instructed in English
We have another workshop on 17 Dec too! Check it out below!
Strength,
Mobility &
Coordination
Empty space, drag to resize
Part 1 : INDIAN CLUBS
Classic club training will be the core of this workshop. It is training available to just about anyone with a few simple movements, easy to learn and great for shoulder mobility, strength and coordination.
Empty space, drag to resize
Part 2 : Meels
Marco will demonstrate the basic Meels windmill/swing so you can try. Meels are great upper extremity and core strength builder.
Empty space, drag to resize
Part 3 : Gada
Classic Mace style with Gada includes a few basic pendulum swings and full rotation movements. Take the first step to mastering this very cool training method.
Join the Workshop for FREE
If you enjoy the workshop, head online and get your own pair of clubs, meels or Gada. Special discount for all attendees!
Option 1 :
Get the Clubs BEFORE wo
rkshop
Purchase any Clubs, Meels or Gadas at our Be Athletic Shop, and reserve a spot at the workshop for free! WhatsApp us to reserve a spot after purchase!

Option 2 :
Get full rebate AFTER workshop
If you get a pair of Indian Clubs on-site within the same day of the workshop, you will be able to get a FULL REBATE of the workshop fee on the Indian Clubs!

MEET THE Instructor
Marco FERDINANDI
Marco is our Business leader, with 30 years as a coach, educator, director, and consultant.
Marco began his career at the age of 17 with Y's Ways to Physical Fitness at the Somerset Y in New Jersey. His love of sport and dedication to helping others live a healthy and fulfilling life are realized every day with AQ Strong.

His career has spanned across Division I NCAA Strength & Conditioning, Corporate Wellness, Commercial Fitness, Sports Performance and Consulting. Marco holds a Masters Degree in Exercise Science, an MBA from the Hong Kong University and has had the pleasure of learning and working with industry leaders across the spectrum in his 30 years. As a Stoic, he takes his work seriously but himself not so much. He now splits his time between Hong Kong and New Jersey, loves to get outdoors, hike and play ice hockey whenever he can.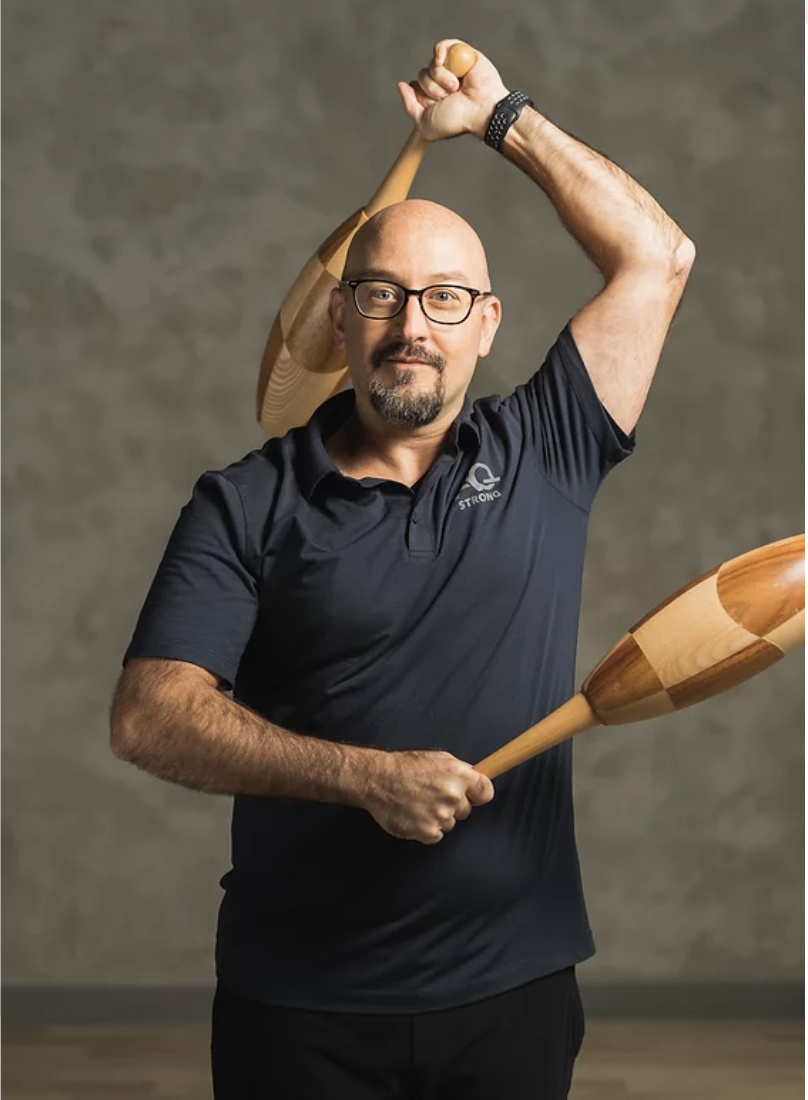 Created with